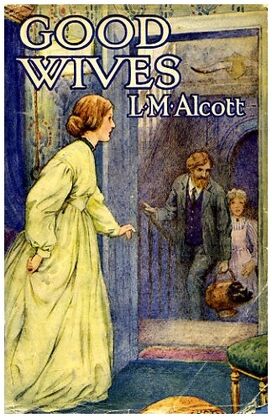 Good Wives is generally regarded as the second book in Louisa May Alcott's Little Women series.
Plot Synopsis
Edit
Good Wives predecessor, Little Women received an overwhelmingly positive reception. After its publication, many girls wrote to Alcott asking her "who the little women marry". With added persuasion from her publisher, Alcott decided to write a sequel. However, according to literary critic Anne E. Boyd, she "particularly battled the conventional marriage plot". Alcott did not have Jo accept Laurie's hand in marriage; rather, when she arranged for Jo to marry, she portrayed unconventional man as her husband. Literary critic Sicherman states that Alcott used Friedrich Bhaer to "subvert adolescent romantic ideals", as he was much older and seemingly unsuited for Jo.
Despite the unusual choice in Jo's husband, Good Wives achieved similar success to Little Women.
Community content is available under
CC-BY-SA
unless otherwise noted.