Margaret March



Birth and Death

Unknown

Also Known As

Hair colour

Grayish brown

Eye colour

Hazel

Nationality

American

Family members

Spouse + children

In-laws

Grandchildren

Affiliation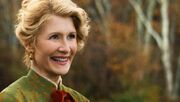 Margaret "Marmee" March was the mother of the March household.
Biography
Her four daughters went to her first in times of despair, and she willingly helped them with open arms and a thankful heart. She was always there to listen to her girls' problems, and they knew that they could tell her anything. Marmee often allowed the girls to learn on their own, when she knew the consequences would be harmless. She was there to explain herself and make sure the girls understood why she did things the way she did.
Physical appearance
Marmee is a tall woman, she did not afford to look elegantly and she always had a friendly look to her face.
Personality and traits
Marmee was a wise, gentle woman. She was a great listener and would sacrifice her own comfort for the good of others. She loved her children and would do anything she could to help them.
Etymology
Appearances